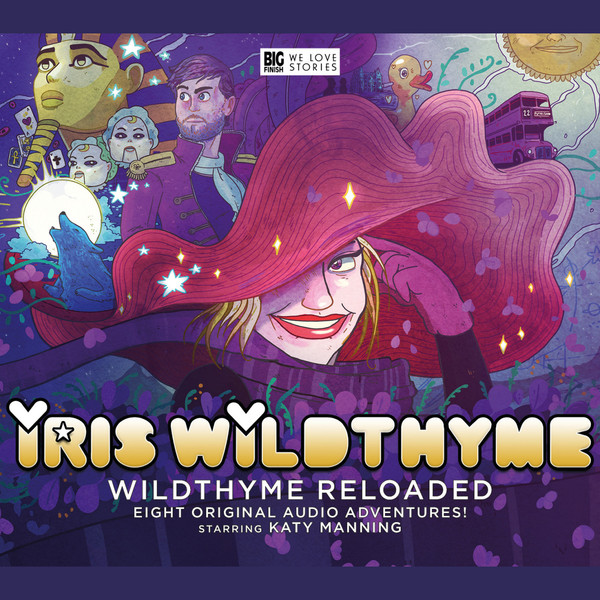 Isn't Katy Manning fab!
She really is one of the nicest Who celebs I've ever had the pleasure of meeting, a joy to follow on Twitter, and a fine actress, so when Jo Grant and Iris Wildthyme meet in the Companion Chronicle
Find and Replace
you forget they are played by the same person.
Iris Wildthyme. Where do I start? She couldonly be played by Katy, that's a given – such a colourful broad character; part Bet Lynch, part Hilda Baker, part Margaret Rutherford and part Anna the inebriate woman, but allIris Wildthyme, and I was delighted when this new series was announced, more of the same jolly gadding about through time on the number 22 Bus to Putney Common, gin in one hand, fag in the other, Panda at her side…Stop!… Wildthyme Reloaded is just a little bit different.
First of all, no Panda. I miss the pompous little 10 inch stuffed toy I really do, but his replacement is very interesting and brings out a new side to Iris' character. The new companion is Captain Turner played by Geoffrey Breton – a square jawed, side-burned gentleman soldier from the late Victorian period, a true romantic. Secondly the theme tune has changed, not a massive change, but it does alter the feeling of the episodes. Thirdly there are more episodes but they are shorter and more character based exploring Iris' past, building on her character, exploring more facets than the happy go lucky intergalactic bag lady we have come to love.
So eight new episodes and here they are:
Comeback of the Scorchies by James Goss
Iris takes Captain Turner to Margate to see a concert by one hit wonder (and old flame) Brain Bonamy, however they hadn't counted on his new management – the Scorchies! 80's music, Scorchies, Margate, Iris, Captain Turner singing a rude song… what more could you want?
Dark Side by Nick Campbell
Iris takes Captain Turner to visit her house – Pink Gables – a house Iris built around a ghost to keep it trapped like a genie in a bottle, however other forces have also taken up residence.
Oracle of the Supermarket by Roy Gill
On a trip to pick up supplies at a Scottish supermarket, Iris and Captain Turner meet Cassie Burdock, a checkout girl with the ability to predict the future, an ability given to her by a children's ride in the shape of a duck (honestly).
Murder at the Abbey by Mark B. Oliver
Iris and the Captain turn sleuths in this sideways take on Agatha Christie, a Manor, a Murder, a host of suspects – what more could you wish for!
The Slots of Giza by Hamish Steele
On a trip to the Casino planet Giza, Iris and the Captain encounter Seth The Sensational, a magician who has a macabre way of ensuring guest keep on gambling and his show keeps on running…
High Spirits by Cavan Scott
In a garden centre, Iris and the Captain are expecting peace and tranquility, but have arrived a bit too late. The Garden In the Clouds is now the scariest place in the Universe and thrill seekers are dared to try to spend the night there, Iris meets up with an echo of her own future.
An Extraterrestrial Werewolf In Belgium by Scott Handcock
Landing in Flanders Iris and the Captain investigate an alien Werewolf, Iris' dress sense is the key to the mystery that leads to a change of circumstances for both our heroes.
Looking For A Friend by Paul Magrs
Iris has been waiting a long time for a long lost friend to turn up, but is this what she really wants, is it closure, or is it a new beginning?
A very very different series than the usual Iris shenanigans – yes there are jolly japes, laughs and larks, but this series is tinged with a sense of wistfulness and melancholy – Iris is explored a lot more and comes across as a much more rounded character, the cosmic bag lady is painted in slightly different shades than in the past and much of this is due to Captain Turner. The Captain is an innocent, bewildered by his travels and constantly in awe of the situations he finds himself in. He is a classic gentleman, always looking for the best in people always doing the right thing and is a sobering influence on Iris. Whereas the wonderful Panda was a cartoonish parody of a cod intellectual snob, the Captain wears his heart on his sleeve in his sincerity.
Katy is wonderful in these adventures, really exploring a hitherto unseen side of Iris; she takes her from joy to despair and back again, with bluster and bravado, her broad character cracks a little and we see her loneliness and how much Panda really meant to her. A stellar guest list backs them up too – Nicola Bryant, Lisa Bowerman, David Warner and Tracey Childs to name a few.
A great jumping on point for newcomers to the world of Iris, this left me wanting more and the ending hints at a whole new series of adventures on the Number 22 to Putney Common. Much better than a punch up the hooter, preferably enjoyed with a glass of splishy splashy 9/10.