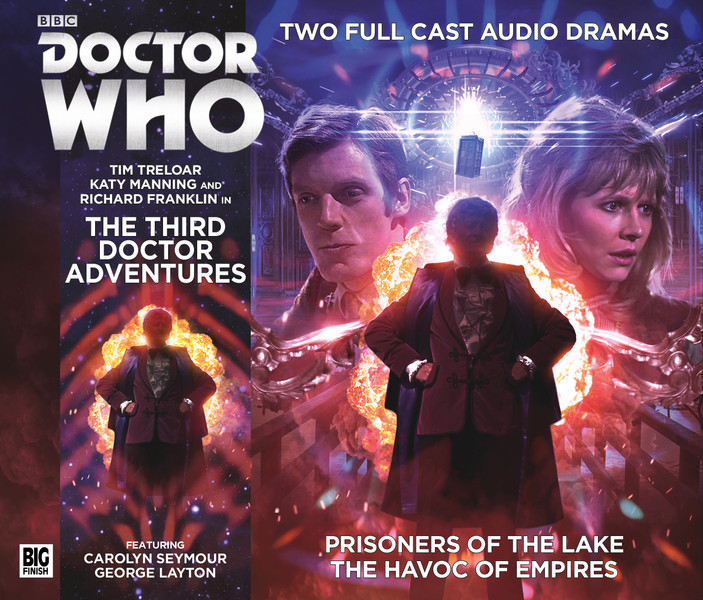 Anyone seen The Sound Of Music? Your silence speaks volumes…. However there is a song in it that springs to mind when writing this review, its "How do you solve a problem like Maria?" Why you may ask, well dear reader, please read on and I promise this will be the last time I mention singing nuns, Lonely Goatherds, Edelweiss, or being 16 and going on 17. I promise. So (in the style of Julie Andrews) "How do you replace a legend like Jon Pertwee?" (yay odelay odelay hee hoo!).
Stop it!
But how do you?
I am sure it was a very difficult decision for Big Finish to make. Pertwee is an icon, a hero to a whole generation of Who fans, anything less than respectful could have giant Wicker Men in the shape of Wurzel Gummidge erected outside Big Finish Towers with Mr Briggs playing the part of Edward Woodward…
In Tim Treolar Big Finish have got things just right – you can breathe a
huge
sigh of relief. Tim is not "doing a Pertwee" in the same way that for example Jon Culshaw "does Tom Baker", his interpretation is more subtle, more real, and more engaging. Tim Treloar has captured the
essence
of Pertwee – the cadence of his voice, the tone, the inflections, the Pertwee-isms. He is no mere sound-a-like, but genuinely channels Pertwee. Listening to this box set I could just see the man himself standing tall, hands on hips, cape flowing. Give it a listen, there is even a free episode on Big Finish's website
HERE
. Give it a listen and you'll see what I mean.
So on to the stories, there are two four-parters here and a new style of storytelling. They are full cast audio dramas but there is a central narrator (also Tim Treloar) who frames the episodes and keeps the story moving along. Joined by the ever wonderful Katy Manning as Jo Grant and the stalwart Richard Franklin as Mike Yates, the two tales are typical Pertwee affairs but very different.
Prisoners of the Lake by Justin Richards
An archaeological site deep beneath Dunstanton Lake is hardly the usual scene for UNIT to investigate, but when an ancient structure is discovered a long lost, long buried threat to Earth is discovered. Listening to this reminded me of the underwater ballet of Thunderball with the Third Doctor in full James Bond mode as a great chunk of the story is set under water, I can just imagine Pertwee utterly loving the opportunity to don scuba gear and film underwater. It is a very typical Pertwee era story and would probably have fitted in well in season 9 – it has the Third Doctor being diplomatic with some, sarcastic with others, an action man with cries of "Hai!", and always but always trying to find a peaceful solution.
Katy gives us a wonderful pitch-perfect performance as Jo Grant, with Richard Franklin giving a commanding performance as Captain Mike Yates. The cast are ably assisted by Caroline Seymour as archaeologist Freda Mattingly.
It is a perfectly serviceable story, and as I have previously stated very mush a product of the early 1970's, but it really does not get out of second gear; it is quite slow paced and tells a perfectly acceptable story, but it is never going to set the world on fire. It really is more of a character piece than a plot-driven blockbuster but showcases Tim Treloar's astonishing performance as Jon Pertwee.
The Havoc of Empires by Andy Lane
Where Prisoners of the Lake was a Season Nine story, this is set in Season Ten. The narrator tells us this, and it begins with The Doctor taking Jo and Mike in the TARDIS so they can go on a date to the Cavern Club in Liverpool 1962 – or is it to see WG Grace play cricket? In fact it is neither. The TARDIS takes the Doctor once again to where he is needed rather than where he wants to go – and this time he is needed on a space station where an arranged diplomatic wedding between the Chalnoth Hegemony and the Teklarn Incorporation is about to take place. However a saboteur has different ideas…
This is a cracking whodunnit story in the style of The Curse of Peladon and really is a brilliant showcase for Katy Manning as Jo, who gets to impersonate security expert Alex Filton and investigate the bombings and expose the perpetrators. This really is good stuff, familiar yet edgy, and Tim Treloar gives us a diplomatic Pertwee, always looking for a third way, abhorring violence, and believing utterly in the calibre of his companions. But the star of this one really is Katy Manning who's superb as Jo. She's vulnerable, sometimes needing reassurance from The Doctor and Mike, but when she is left on her own, is more than capable of rising to the challenges of her assumed identity.
So a very safe start to a new range for Big Finish, but a Third Doctor box set really has to be what it says on the tin, and this really is. t follows the format and structure of the era, has the warmth and camaraderie of the "UNIT Family" era, and in Tim Treloar an excellent homage to the essence and legacy of Jon Pertwee.
So before I say "so long, farewell, auf wiedersehn, good bye", I will say It was okay in the 1970's, and it is most definitely okay now. 8/10.