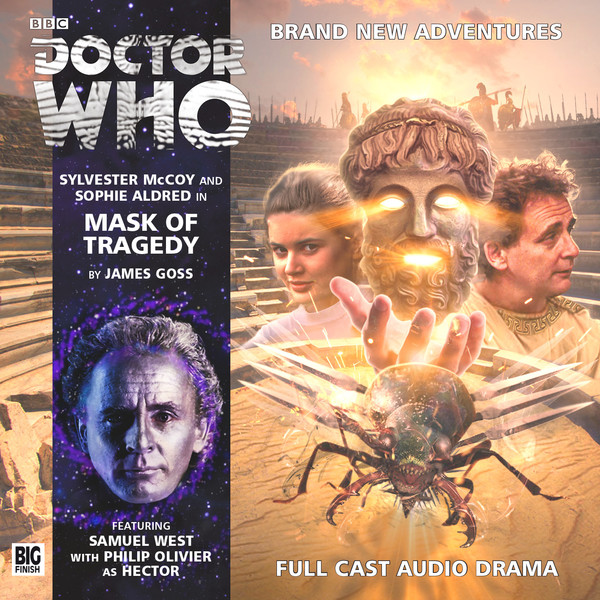 I like the theatre, so does Mrs Wings. We are never happier than when we make one of our periodic visits to Stratford Upon Avon to see an RSC production.
The power of words is an incredible thing – "I have of late, but wherefore I know not, lost all my mirth" makes the hair on the back of my neck stand on end the before the law passage from Kafka's The Trial is just powerful, moving and thought provoking. Of course, Shakespeare is the master, sure, some of the plots don't make sense, the characters are two dimensional, the comedy is broad – but the words, oh the words just thinking of them conjures up images of despair, laughter, Kings, queens, fools, lovers, comedy and tragedy.
Tragedy brings me nicely on to the latest in the main range from Big Finish – Mask of Tragedy.
Ancient Greece is the setting, cradle of civilisation, home of democracy and theatre and it is here that the Seventh Doctor brings Ace and Hector for a holiday. The Doctor meets up with playwright Aristophanes played by Samuel West whilst Ace spends time with the invading Spartan army and Hector becomes possessed by an alien mask and becomes the earthly embodiment of Dionysys.The framing device is very interesting. Ace takes the part of the chorus and she says that The Doctor and Hector play the Hero and the Villain, but it's up to the audience to decide who plays who!
Something isn't right in Ancient Greece! The dead are coming back to life and the city leader Cleon is being terrorised by a Fury – a giant flying beetle with knives for wings.
Sounds good, and I am sure there is a good story in there, it's just something isn't quite right with the tone. Is it a comedy or is it a tragedy? Is it a tragedy with funny bits or a comedy with sad bits? And that's the problem, it seems to be a story looking for a tone. Or maybe I am missing the point and the whole thing is a metaphor for how Ace and The Doctor's attitude to life and death is completely at odds with Hector's. Hector seems to sum it up at the end where he says to the Doctor "all you seem to have done is invented light entertainment" and that's what it feels like, more season Twenty Four than Season Twenty Five or Twenty Six, perfect for the light-hearted early McCoy era, but not this version of sEVEN. There are some excellent performances, especially Philip Olivier as Hector, a real fish out of water, a novice at time travel given too much freedom to get it wrong – but, this is a rare occasion that a story didn't quite gel for me.
Overall, it's all Greek to me 5/10.