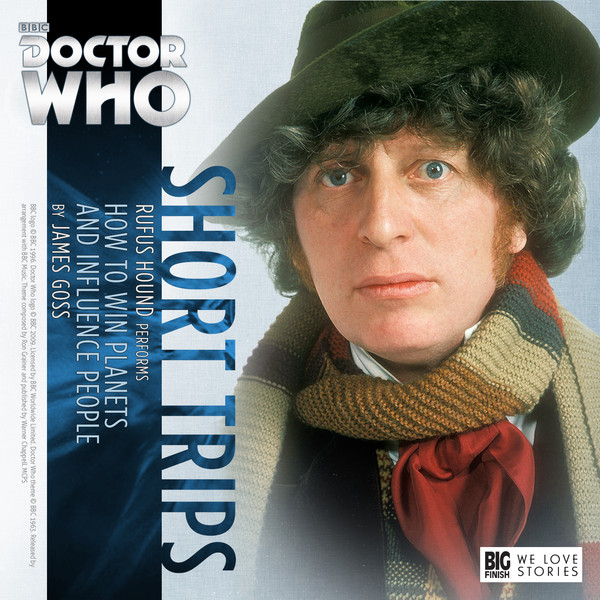 "memo: to the board of the Darkon Corporation
re; recent events regarding "The Monk" and his suitability as our strategic invasion planner
Its not gone very well has it? foiled at every turn by that mysterious traveller in time and space known only as "The Doctor" this lecture he is about to give is his final chance to show us just what he is made of and that he is definitely and undoubtedly THE man for the job of ensuring our galactic domination and we were right to pick him and not that mad woman dressed like a Nanny for the job….
Memo ends."
Ah Rufus Hound, what a performance – he now IS the Monk having squared off on audio against Doctors 2,3,4 and 8 but in this particular Short Trip Mr Hound takes centre stage (Literally) as he delivers his presentation to the Darkon Corporation. The whole story is set as a corporate lecture full of awful business speak, peppy and banal and just flipping marvellous as the Monk regales us with tales of his failures at the hands of the Fourth Doctor, Harry and Sarah Jane – marvel as his plans to own all property on earth fall over, revel in his plan to change the outcome of the Russian Revolution becoming an away day on a beach and prepare to be amazed as his turn as a professional foreteller of all things leads to a surprising win on Strictly Come Dancing. Sounds crazy, well it is and it is all the better for it because basically, deep down, I think the Monk isn't really that bad a guy – no one who is that bad at being bad can really be that dedicated can they. Of all the Doctor Who "villains" he was almost the most loveable in his Peter Butterworth incarnation, not evil, just a bit mischievous and constantly out of his depth, and Rufus Hound channels this beautifully – he almost seems to see being evil as a game he is playing and is almost pleased when he fails – a bit like the baddies in "The Web of Caves" (not seen it? what sort of fan are you? check it out
HERE
).
Thirty five minutes is almost too short for a story of this quality, it feels just like the "Doctor-Lite" stories we used to get on TV back in the day, a completely different approach and a chance to do something very different with the structure of the Short Trip – and by jingo is it a success (unlike The Monk's plans) If I were appraising I would say something along the lines of "full of blue sky thinking, with out of box aspirations and all boxes ticked" and I would award a big bonus and 10/10.