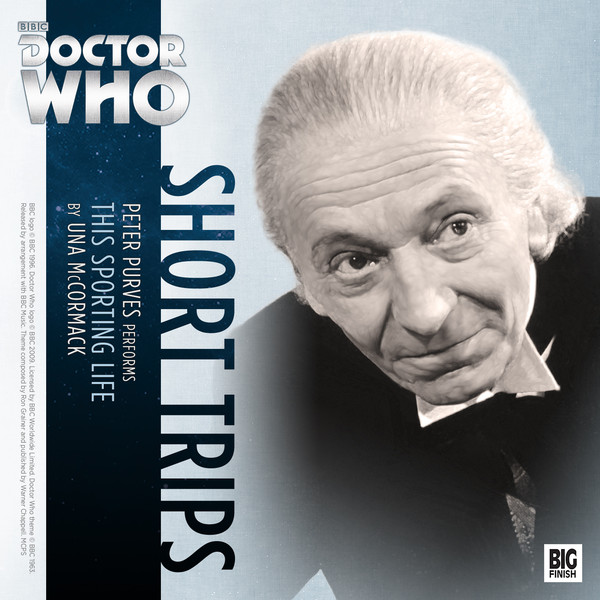 Utterly charming. There I have said it. But those two words sum up this release perfectly. So do the words sweet and heartwarming. Because that is what this release is. But what is this charming heartwarming release, well its this months Short Trips release "This Sporting Life". When I first heard about this release I (like many other fans I am sure) raised a wry eyebrow as of course this title is the title of a famous film starring none other than William Hartnell. This story is not about the First Doctor going undercover as a rugby scout as the title may suggest, but about the theft of the Jules Rimet trophy in 1966.
Read by Peter Purves (Steven Taylor) he recalls a time where the oft overlooked TARDIS team of The First Doctor, Steven and Dodo arrived in London 1966 and became involved in the recovery of the stolen original World Cup Trophy. Dripping with period charm this small scale interlude is set in a familiar 1960's London, a nostalgic London of Bobbies on the beat that probably hadn't existed since the 1950's – more Dixon of Dock Green than Swinging London – but utterly in keeping with the nostalgic tone of the story telling. In the short 35 minutes of the story our heroes become embroiled in the theft of the World Cup, discover the reasons behind the theft and The First Doctor – with customary twinkle and wry smile makes sure that history is kept on track.
If the Ealing films had made a Doctor Who it would be this one – all post war pride, larger than life characters and a happy ending, almost twee, but not quite going that far just, well Utterly Charming. Of course a review referencing the 1966 World Cup Final wouldn't be complete without me saying they think its all over – and at a heartwarming 9/10 – it is now.