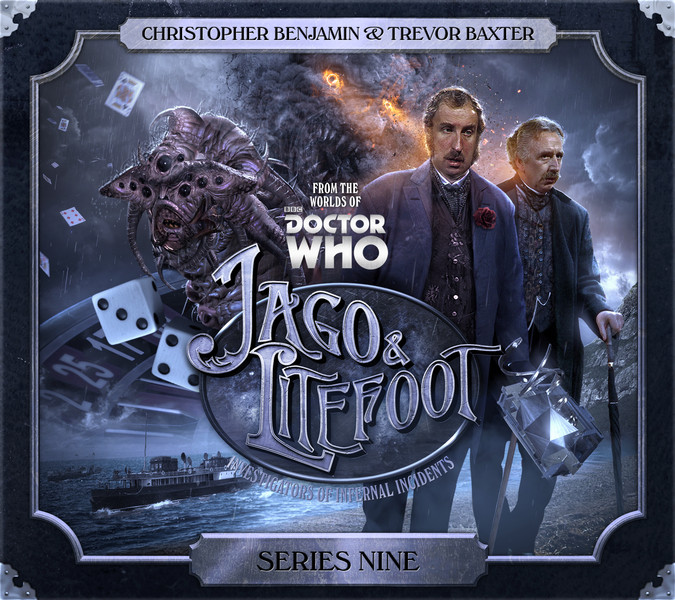 When Victorian London becomes a comfort zone, what do you do? One idea is to move the action to 1960's London – big tick, been there done that in Season 5 – so after the events of Series 8, our heroes take a well-earned break. They decide to go on a cruise – and so (ahem!)…
My Lords Ladies and Gentlemen, may I introduce for your enjoyment, entertainment and edification, four tales of the ocean blue, of our daring two, of a cruise of the convivial, ladies and gentlemen, I proudly present… Jago and Litefoot Series 9!
So, four stories, but all very closely linked by a central mystery – taking our heroes away from London, Ellie and Sgt Quick really reinvigorates the characters, the comfort zone and support network are gone and they must make new acquaintances on the voyage in order to survive. Survive you ask? well, yes, as this being Jago and Litefoot this is no ordinary cruise.
Story One is called The Flying Frenchman – it sets the scene, introduces us to the crew and fellow passengers on the cruise, the ship is called the Fata Morgana and our heroes spend time making the acquaintance of fellow passengers, it's actually quite slow and takes a while to get going, but then a fog appears, the ship stops and becomes becalmed, and they are all alone lost on the ocean. They send away rescue parties in boats, but they return minutes later, having been away for days according to the rescue parties. Soon food begins to run low, and then another ship approaches through the fog, another Fata Morgana from a point further on in time, and then things start to get really strange…
The adventure is a bit slow to get going, but really intriguing when it does and sets the scene of the central mystery of the story – what has caused the strange fog and why is it transporting the Fata Morgana to random locations…
It may come as no surprise that my favourite classic series story is The Talons of Weng- Chiang, due almost entirely to the genius combination of Messers Jago & Litefoot – I say 'almost' because of the master that is Tom Baker! I've been eagerly awaiting Series 9 and the opening episode did not disappoint. I have initial reservations about stories set outside London and the Red Tavern; Ellie and Sergeant Quick feel as integral to the series as our fine protagonists. and the city has almost become the third star. However, new characters are always so well rounded and intriguing that you are immediately engaged and those aboard the Fata Morgana tick all the boxes. The story itself, to echo Ed, is a slow builder, setting the scene and introducing new temporary companions. Once the fog descends and envelopes all the tension builds and our taste for the weird and wonderful starts to become satisfied. Episode 2 had to be heard and as soon as possible…!!
__________
Story Two is called The Devils Dicemen and is my personal favourite of the set, it is very Jago-centric, you can see it coming a mile off, but it's all the funnier for it. The Fog has deposited the Fata Morgana in Monte Carlo, Jago and Litefoot decide to visit a local casino, Jago thinks his luck is in as he and ships Purser Aubrey (Jamie Newall) have a winning streak at the casino, as Litefoot befriends Dr Betterman (David Warner). Jago & Aubrey are lured to the Dark Casino by the seductive Madame Diabolique (Miranda Raison) with hilarious and deadly consequences.
A joy from beginning to end, Jago is in full alliterative pompous poltroon mode, his vanity blinding him to the path he is taking, whilst Litefoot plays a quieter more cerebral role in investigating the Dark Casino from another angle. Top stuff!
This episode felt detached from the first and took us in another direction, but where it took us was just as thrilling. We're on our way to a casino, but so is Henry, and I think you can probably guess that our hapless impresario will find himself in deep water. An excellent episode with great characters that shows Jago at his buffoonish and brave best.
__________
Story Three is called The Island of Death, and basically does what it says on the tin – albeit a Jago and Litefoot shaped tin. The mysterious fog deposits the Fata Morgana on an island, we don't know where it is, but our heroes decided to investigate – this is a very H G Wells style story, lost island, lost tribe, monsters, all excellent boys own stuff, which could be dull, but with our investigators of the infernal there is never a dull moment, Jago gets to practice his music hall hypnotism act in the most unlikely of situations, the story rattles along at quite a pace and finishes on a cliffhanger which leads us on to story four – oh corks!
Michael Palin may well have written an episode of 'Ripping Yarns' like this one. You can see the cover of the novella – a French 'Alan Quatermain', a society damsel, mysterious savage islanders and the two very English gentleman. But what is the powerful force that terrifies and controls…?
__________
Story Four is called Return of the Nightmare, it brings together various threads from the three previous stories, what is the fog, how is it generated, why is there a murderous beast loose on the Fata Morgana and how can the situation be resolved? All these questions are answered back in London where our heroes team up again with Ellie the barmaid (Lisa Bowerman) and Sgt Quick (Conrad Asquith) to defeat the nameless horror that the fog brings – proper edge of your seat adventure with the usual banter and bonhomie, and finishes as always with a pint at the Red Taverna and a teaser to lead in to the next series…
I know I said I feel slightly less enthusiastic about adventures outside 'The Big Smoke' (sorry), but I almost felt sorry when attention turned back to their stomping ground. I was getting used to life aboard the Fata Morgana, grim and unpredictable as it was. Having said that, the voices of Ellie and Sgt Quick made the return home all the more welcome and you felt that with them, a resolution was in sight. So we raced towards it, breathless and anxious, but not quite wanting the adventure to end.
__________
I loved this series, it was a little slow to get going, but once the first twenty minutes or so were passed, it didn't let up – Christopher Benjamin and Trevor Baxter are masters at work, their performances seem effortless – why oh why they were not given a spin-off series on TV I will never know – come on BBC, how's about they meet up with the Paternoster Gang, just one scene, it's not a lot to ask…
So, cruise of the convivial, voyage of the venerable and again another 10 out of 10 for Messers Jago and Litefoot.
Too few episodes!! Yes I do know that sounds ungrateful but I listened to the series in one go, and after waiting so enthusiastically I felt it was over too soon. They certainly packed in a lot of real adventure, peril and humour and it is the best of the series away from their natural home; each episode was a joy. It was wonderful to hear the great David Warner as Dr Betterman in Episode 2 and I do hope they make more of the character in Series 10, which I am anxious to hear. So with that in mind I would like Big Finish to hurry it up a bit; we Jagoists and Litefootists, (for that's what we are), just can't wait.