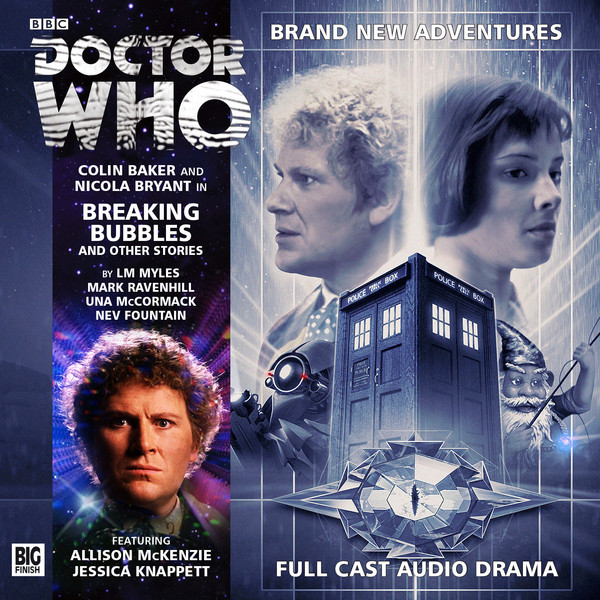 Perception, that what this is all about. What is perception though? I see it as a way of explaining my world view – 1000 people may view the same events and when asked about it come up with 1000 different explanations. I listened to Metallica at Glastonbury and thought it was a wonderful, beautifully constructed sweeping, moving performance, others just saw it as shouty noise, & don't let's get started on Love and Monsters (though if you want to there is a thread
here
.
So perception eh, there you have it, which brings me neatly (or in a roundabout rambling way, depending on your perception) to this months main range release from Big Finish – Breaking Bubbles and Other Stories.
This is one of Big Finish's periodic breaking of the usual format, in that it is four short stories of an episode long each rather than a complete four part adventure, each story is complete on its own, but in some ways tackles the theme of perception.
Breaking Bubbles by LM Myles is the first story and sees Ol' Sixie and Peri arrive in what they perceive to be the gardens of a stately home, but as with the theme of this anthology, nothing is as it seems and everything is not as black and white as it is painted. Easily the most traditional of all the stories, a space opera with Galactic Empires, deposed emperors and a human cost this starts off the collection very nicely and feels very cosy and familiar 7/10.
Of Chaos Time The by Mark Ravenhill throws you in at the deep end, we enter part way through the story, if Breaking Bubbles was traditional classic Who, this is Old Sixie meets the Moffat era. Initially confusing, as the messed up title suggests, this is not played out in a linear fashion, The Doctor jumps back and forth through different parts of the story about time being used as a weapon. It's a clever take on time travel and wall does stand up to repeated listening 8/10.
An Eye For Murder by Una McCormack The Doctor and Peri visit St Ursulas College for women at the dawn of World War 2, something there could change the course of the war…
This feels like an Agatha Christie, all stuffy upper class academics in a women's university, Peri mistaken for an author and seen as the Doctors boss, him pretending to be her typist. There is a poison pen mystery to solve and an alien artefact that effects viewers perception all in the space of one half an hour episode, great build up, fantastic characterisation I really could see it happening, but the ending felt (again my perception) a little rushed 8/10.
The Curious Incident of the Doctor in the Night-Time by Nev Fountain and so ladies and gentlemen, we come to the last story on the anthology, and boy oh boy was it worth waiting for. The main protagonist is Michael, a fourteen year old boy who is a little different to the norm, he likes to solve mysteries, doesn't like "invisible rules" that no one tells you about, and knows beyond a shadow of a doubt that his Dad had 129 garden Gnomes and NOT 130, as he had counted them. Sometimes a story completely knocks you for six and this is one of them. I will go as far to say that this is the "Love and Monsters" of the Big Finish range and long time readers and forum members will know how much I love that story. It's a story about people and how loss effects them, how one boy makes sense of the mystery of his missing Dad, and then accepts the world in a very new way. And that last scene, Colin Baker, just Colin Baker, as wonderful a performance as he has ever given as the Doctor, it makes me sad that his potential wasn't realised on TV if I could rate it higher than 10/10 I would, it is one of the very best not only Big Finish releases, but Doctor Who stories in general, that I have had the pleasure to experience in any format.
So there you have it, something for everyone, from classic who, to new who, to period drama to human drama all on two shiny discs (or downloads which probably won't be shiny) Colin Baker continues to be astounding, and it is lovely to see him paired with Peri, a too rare an occurrence in the audios, but the upcoming trilogy will rectify that.
Overall, see individual story scores, but highly recommended bite size pick'n'mix of top class Doctor Who.