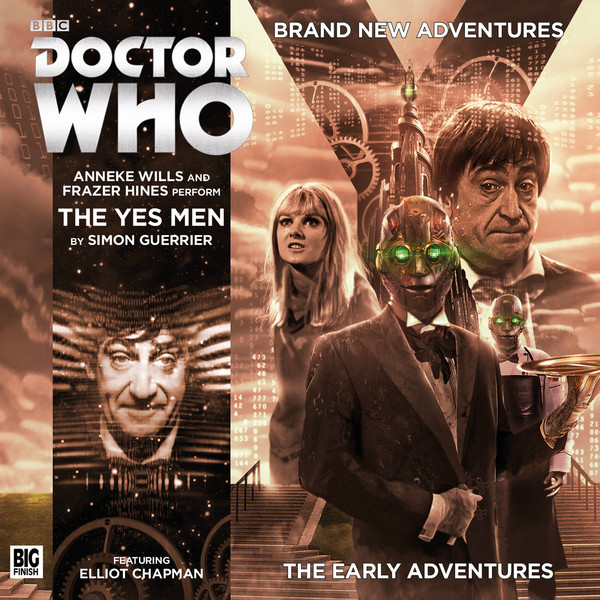 There is a old saying that all power corrupts, but that absolute power corrupts absolutely. There is another saying regarding the road to hell being paved with good intentions.
Both are very relevant in this months release, the first in a new series of Early Adventures. Whereas last years releases concentrated on the Hartnell era, these are from the Troughton era. Time and BBC archivists have been particularly cruel to seasons 3, 4 and 5 of Doctor Who, this story set in Season 4 features Doctor 2 along with Ben, Polly and Jamie. It is narrated by Anneke Wills who also plays Polly, has Frazer Hines as Jamie & the 2nd Doctor (and boy does he do a good Troughton). Instead of having the narrator or Jamie voice the lines for Ben (who was originally played by the late Michael Craze) Big Finish have taken a very brave decision in recasting Ben for the audios. The unenviable task of trying to fill Mr Craze's boots goes to newcomer Elliot Chapman. He really has respect for the era and the mantle he is taking on – he watched and listened to all the episodes featuring Ben Jackson to pick up the nuances in his vocal performance – in the special features that follow episode four he even comments on how Craze's performance changed during his time on the show – his performance was lauded by Frazer and Anneke. Whether you think it is ok to recast or not, Elliot Chapman gives a fab performance as Ben & I look forward to hearing more of his interpretation.
So the plot – set during the original Season 4 the story really plays homage to the early shows "sci-fi" ethos of far out worlds, city states, everything controlled by Robot, consumerism gone mad – you can visualise the denizens of New Houston all wearing jump suits and everything being silver and functional. It is so authentic to the era that I actually imagined it in Black & White.
New Houston is a Colony Planet, the Doctor decides to look up his old friend Meg Carvossa, but he arrives too late – Meg is dead, but how did she die? Conflicting reports lead our heroes into a conspiracy and a very odd revolution. The era specific atmosphere is helped by some very authentic incidental music, all bassoon if you know what I mean. It also feels like the sort of story that should be listened to in 25 minute chunks rather than in one go – it does feel like a serial rather than a story, and herein lies the problem – the story feels a little disjointed and a little inconsequential. Its not a bad story but just a bit, well, "robotic" and lacking pace. There is a tense political thriller in there somewhere, but it is buried in the trappings of mid sixties sci fi serial, which is a shame – as there is a great deal to explore about the effect a prior visit the Doctor has on a planet and the influence he has on the people he meets. Loathe as I am to paraphrase a Matt Smith story but the Doctor really does make people want to impress him and to me that is the crux of the story.
A great recreation of the era, Elliot Chapman is a revelation as Ben – but the story just didn't engage me. 5/10.