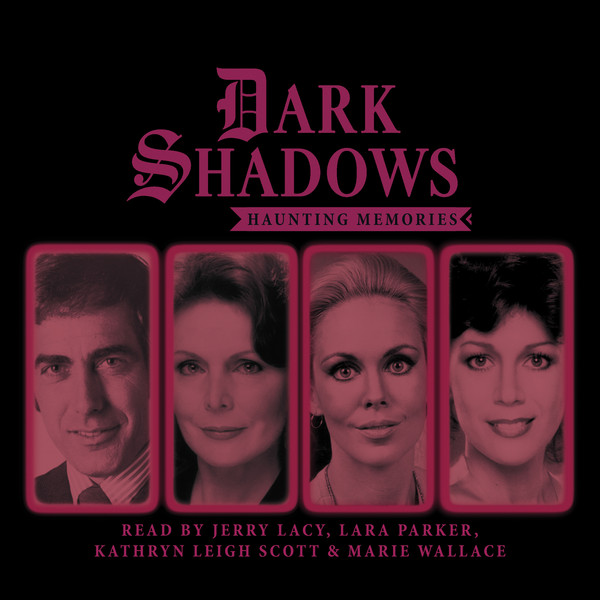 In this 50th anniversary year of Dark Shadows we have been treated to a 50th anniversary special and tow short story anthologies, the second of these is "Haunting Memories" and it is what I will be talking about shortly.
If you are not aware of Dark Shadows, it was a daily soap opera shown in the USA from the late 1960's to early 1970's - it always had a gothic sort of "Rebecca" feel to it, very downbeat and gloomy as we were introduced to the Collins family and their crumbling stately home Collinwood - and then it steps up a gear when Barnabas Collins the Vampire is introduced - from that point stories slip back and forth in time, even in to parallel universes and it truly becomes "cult".
Big Finish have picked up the reigns of this long abandoned but fondly remembered piece of Americana and have produced a top quality range with more to come in 2017, but thats the future - lets go back to Haunting Memories….
Four short stories very much in the style of the Doctor Who "Short Trips" range where an actor from the TV series narrates a short interlude of a story an almost insignificant incident that has ramifications for the characters involved - and here we are lucky that Big FInish have chosen four of the most interesting characters in the Dark Shadows universe - Josette, Trask, Angelique & Elizabeth Collins-Stoddard and four pivotal moments in their lives, we begin with Josette.
A hurricane is in the process of devastating the island where the young Josette Du Res lives - sometimes a natural phenomenon can bring much more misery and despair than a supernatural one - and the effects of this particular storm will blight Josette's life and change it forever. Its a claustrophobic beginning to the set and is set a long time before the main events of Dark Shadows so might not seem relevant to a casual listener, but to the seasoned veteran who knows Josette's history this is a pivotal moment.
I always liked the Reverend Trask (Jerry Lacey), well, liked isn't really the right word - I found his character fascinating. here he plays Reverend Elias Trask, father to Gregory Trask as he dispenses his own unique brand of self righteous "goodness" throughout the American Civil War. Here Trask rescues a prostitute from her place of work and is pursued by her owner, his son Gregory is shot in the chest and they are forced to hide out in a church - as Trask prays to his God for aid and redemption, something altogether different answers his prayers. Another pivotal moment for a Dark Shadows character - this is the moment that the Dark Lord enters the history of the Trask family, there is a feeling of inevitability from Trask's prayer at the beginning to the repeated prayer at the end - fatalistic and inevitable, a fall from grace of the highest order, a triumph of arrogance and hypocrisy personified, my highlight of the set.
The Ghost Ship by Lara Parker
Not one but Lara Parker can play Angelique Bouchard, and really no one can write for Angelique like Lara Parker can. She knows Angelique, she has symbiosis with the character - she has played her for so long and written novels about her and truly inhabits Angelique, so who else to write the Angelique story & play Angelique but Lara Parker.
When Angelique hears ghosts on the beach crying for their loved ones lost at sea she feels sympathy with them, when they promise to restore Barnabas Collins love for her in return for her restoring their lost loves lives it is a bargain too good to resist.
Its a "be careful what you wish for" story that is quite continuity heavy, we need to know who Barnabas is, who Nicolas Blair is and why Angelique is a ghost - a story that again will reward long time listeners but may leave the uninitiated slightly lost.
A Face from the Past by Kay Stonham
When Elizabeth Collins-Stoddard returns to Collinsport she sees a man she recognises, the old love of her life Victor, but he has not changed, he has not aged in all the years that have passed since they were young lovers. What follows is a downward spiral of confession, revelations and almost a catharsis and an acceptance of what has been. We get a harrowing insight into the life of Elizabeth before she was a Collins and the life that she could have had with Victor had circumstances been different. This story really embodies the bleak melancholy that embodied the early episodes of Dark Shadows, I listened in black and white if you know what I mean - the whole episode has a noir feel and a feeling of regret that should not really have resurfaced.
Four very different tales with a very definite linking theme - Haunting Memories is a very apt title for the set because memories are very powerful things and can consume you - a backward looking set focussed on nostalgia, and nostalgia does not always leave a warm glow, sometimes it leaves a gaping hole. 8/10.
Written by Ed Watkinson
Synopsis
This title was released in December 2016. It will be exclusively available to buy from the BF website until January 31st 2016, and on general sale after this date.
Four tales of horror, romance and intrigue…
A young Josette Du Pres is terrified for her life as a deadly hurricane smashes into the island of Martinique. She rushes for shelter but she's not the only one fighting to survive…
1861 and War rages across America. The preacher Elias Trask and his young son Gregory, are hiding from men who wish to kill them. But something else is already in their hiding place…
The Ghost Ship
by
Lara Parker
The warlock Nicholas Blair has transformed the witch Angelique into a vampire to serve him. Her love for Barnabas Collins, though, will never die…
A Face from the Past
by
Kay Stonham
Elizabeth Collins Stoddard is returning to her home town of Collinsport. But on the train, she is stunned to see the young man who was once the love of her life. Could he also have returned to the town that once tore them apart?
Written By:
Marcy Robin, Adam Usden, Lara Parker, Kay Stonham
Directed By:
Darren Gross
Cast
Kathryn Leigh Scott, Jerry Lacy, Lara Parker & Marie Wallace