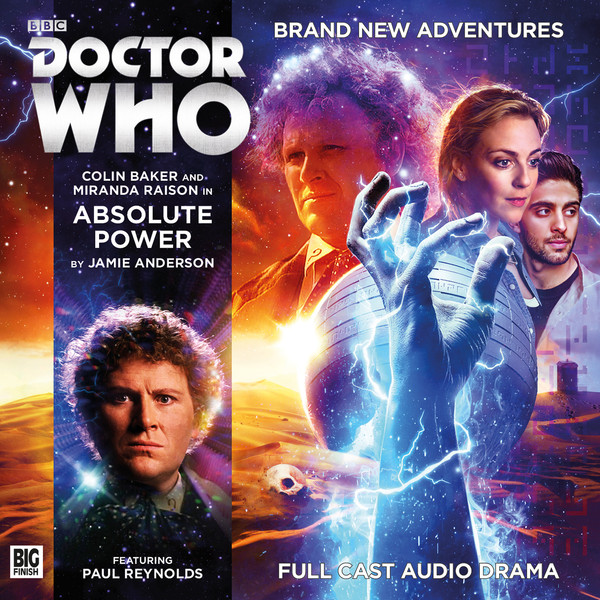 You sort of know where you are with Colin Baker releases - dependable, classy and following a certain formula. As Meat Loaf once sang "two out of three aint bad" as yes this release is dependable, yes it most definitely is classy but formula? Nah - throw that one out of the window. This is the most un-Colin like Colin story in a very long time. In fact it feels more like RTD meets the Hinchcliffe era with Old SIxie's charm and verbosity thrown in for good measure.
Yes indeed, this one is breath of fresh air - after last months slightly disappointing Dalek story this is much more like it - but what is "it" I hear you ask, well dear reader "it" in this case is the first of December 2016's Old Sixie & Mrs Clarke releases, hold on to your hats for the rollercoaster ride that is "Absolute Power"
Set on the Planet Teymah, the Doctor and Mrs Clarke (Miranda Raison) are mistaken for inspectors and granted all access to Lyam Yce (Paul Reynolds) archaeological dig. Ice wants to find out why the ancient civilisation of Teymah became extinct and his dig has discovered a huge sphere which cannot be opened, there are also some ancient inscriptions that the TARDIS cannot translate does it sound familiar so far? This story screams ancient evil, it screams of bases well and truly under siege and a huge body count, it screams blockbuster - and do you know it delivers on all counts - think "The Impossible Planet/The Satan Pit" and you will be on the right track to the fell of this story. The stakes are really high, the universe is in danger. Come on, a whole planet made extinct by an ancient enemy and that enemy using all its guile and cunning to resurrect itself - we are on to a winner.
There is a palpable sense of time running out throughout the story - Mrs Clarke and the Doctor are separated at the beginning of the story & Mrs Clarke really does shine bright in this one - she is a code breaker from Bletchley Park and she uses the skills developed there to break codes, translate inscriptions and keep everyones spirits up with her Blitz spirit. Miranda Raison is just wonderful, she is up there with the great companions and just suits Old SIxie - she takes no nonsense and insists that their relationship is formal, insisting on being referred to as Mrs Clarke - she keeps Old Sixie on his toes, she questions hime and whilst not his intellectual equal is intelligent and capable and a million miles away from the screaming ankle twisting companions of the TV series.
And Colin Baker - oh Colin, he is magnificent here, but when isn't he? Given lots of meaty moral outrage, lots of clever dialogue and wordplay - he seems in his element, his energy and enthusiasm for the script is apparent - he seems reenergised by Mrs Clarke's companionship and changed by her, the bombast is still there but it is tempered with a respect that we have only ever really seen for Evelyn Smith previously.
And so the story unfolds - there are betrayals, revelations, it also very cleverly does not play out how the listener might expect and despite everything there is something of hope after all the destruction wrought on Teymah and all the lives needlessly lost in the pursuit of Absolute Power for one man. A strong entry in to the main range, and a very different take on a Sixth Doctor story - its amazing that after all these years Old Sixie is still being given new things to do and new facets of his character are being drawn out. An absolutely powerful 9/10.
Written By Ed Watkinson
Synopsis
This title was released in December 2016. It will be exclusively available to buy from the BF website until January 31st 2016, and on general sale after this date.
Two thousand years ago, all civilisation on the planet Teymah was wiped out in an AELE – an Anomalous Extinction Level Event. Now, the galactic entrepreneur Lyam Yce hopes, at last, to learn the reason why the ancient Teymahrians went extinct – by funding a huge archaeological dig.
While the Doctor probes a strange sphere found by Yce's diggers, his companion, former Bletchley Park cryptographer Constance Clarke, agrees to help translate symbols written in the lost ancient language of the Teymahrians. And soon, they'll learn that ancient Teymah's secrets were best left buried deep beneath its shifting sands...
Written By:
Jamie Anderson
Directed By:
Jamie Anderson
Cast
Colin Baker
(The Doctor),
Miranda Raison
(Constance Clarke),
Paul Reynolds
(Lyam Yce),
Jenny Bede
(Florrie/Medical Doctor),
Arian Nik
(Ammar Elkady),
Neil Edmond
(Professor Aryan Wyke/Mine Worker),
Gary Martin
(Kohrbal),
Esther Hall
(Pheenan). Other parts played by members of the cast.
Producer
David Richardson
Script Editor
Alan Barnes
Executive Producers
Jason Haigh-Ellery and Nicholas Briggs