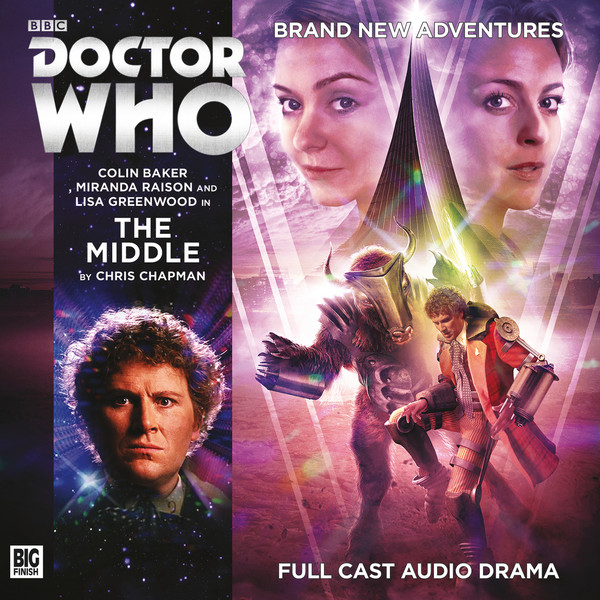 I really like this one, it feels like a Doctor Who story should feel (if that is a thing) has a definite beginning, middle and end with very natural feeling cliffhangers (the ending of part one is a particular treat) it is also one of those stories that has inspired one of my semi regular musical interludes – so sit back relax and enjoy
Birthday by The Sugarcubes
.
That was rather pleasant wasnt it, if a little melancholy – but thats what birthdays are, a celebration but a reminder of our mortality and birthdays play a very important part in The Middle as the story is set on and around Mrs Clarke (Miranda Raison) and her fast approaching 35th birthday and Flip Jackson (Lisa Greenwood) attempting to arrange a "Wren Party" to celebrate much to the dismay of Mrs Clarke & The Doctor (Colin Baker).
Landing on the colony of Formicia Flip is desperate to find an all night party or at the very least a pampering session for Mrs Clarke. It seems like an ideal place, but something doesn't feel quite right – posters claim "The End is the Beginning" and The Doctor is eyed with suspicion by the oddly very young population…
Already in the pre credits sequence we have witnessed a member of the population facing "The End" – its what happens when you reach 70, and the Doctor is ever so slightly older than that, but also Mrs Clarke is fast approaching her 35th birthday and that leads to "the Middle".
Doctor Who does this sort of story very well – cautionary tales, cracked mirrors held up to our world, stories like The Sunmakers, Vengeance on Varos, The Macra Terror etc, stories where society has gone up a blind alley and has plainly got it wrong. On Formicia the young get to be young, the middle aged get to do all the work and the elderly face "The End" on their 70th birthday – but being Doctor Who it is not as simple as that and as our heroes find out maybe the end really is the beginning.
The main cast are joined by comedy stalwart Mark Heap as "The Middleman", basically a middleman, a mid level manager who seems to be in complete control of the colony, played in a typically passive/aggressive Mark Heap style, we also have Sheila Reid making her return to the Colin Baker era as Janaiya.
Colin Baker is pure class in this story relishing every twist and turn that the plot brings – no Doctor does moral outrage quite like Old SIxie and he is on top form confronting the injustices he uncovers on his crusade to see things put right. Miranda Raison and Lisa Greenwood are a fabulous and unlikely pairing as Mrs Clarke & Flip, separated by 60 years in time and an almost infinite chasm in social status they have just clicked with Mrs Clarke showing almost maternal concern for Flip when they are separated – fabulous character development and I hope they have many more adventures together.
The Sixth Doctor releases are always surprising and always rather special and following on from The Behemoth (review
HERE
) was always going to be difficult but The Middle hits it straight out of the park and on towards The End and fully deserves its 10/10.