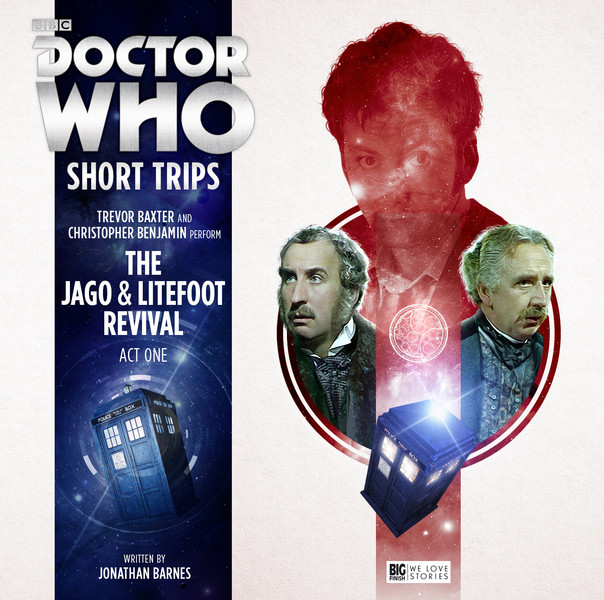 As the old saying goes "you can never have too much of a good thing" and Big Finish seem to understand that because when the "good thing" in question are the adventures of Mr Henry Gordon Jago & Professor George Litefoot you can never ever have enough and this very special release in this new format for J & L is every bit as marvellous as I expected it to be.
Having starred in a Companion Chronicle, guest starred with the Fourth Doctor and headlined 12 (soon to be 13) series of their own this is the first time they have appeared in a Short Trips – and its a first for the format, two leads narrating a story and told in two parts with a cliffhanger in the middle. Trevor Baxter as Litefoot & Christopher Benjamin as Jago are immediately engaging as they indulge in a bit of banter about what the story should be called. Ah the story – told as a lecture to the Club for Curious Scientific Men originally to be delivered by Professor Litefoot, the proceedings are soon gatecrashed by the verbidextrous vaudevillian volte-force Mr Henry Gordon Jago who decides to inject some colour to the proceedings as they tell a tale of how, in a bit of a slump and in need of reinvigoration Litefoot takes up an offer to go to the Greek Island of Minos where he finds a very strange harmonica and meets up with a tall young man with a cultured cockney accent and a long brown coat (guess WHO) whilst Jago left alone in London has problems of his own – his theatre is infested by spiders and constantly draped with cobwebs, so whilst auditioning new acts he engages a strange new pest exterminator on the scene known only as "Exterminating Johnny"…….
This is only part one of the story and there is much set up that will be resolved in next months release, but there is so much to love about part one – the banter and camaraderie between Jago & Litefoot is the stuff of legend and with them being the only speaking parts they are given free reign to shine, in particular Professor Litefoot giving a speech when the penny drops as to who the tall brown coated man is really is a thing of beauty, one of those moments that make you go cold. Thats not to say Jago is overshadowed, how could he be, he is as verbose, pompous and buffoonish as he ever was and a joy to listen to.
The lecture ends on a cliffhanger and in true sophisticated style Professor Litefoot calls for an interval where fruit cake and port are served as we eagerly await the daring denouement of hellenic happenings & arachnid aversion. A joy from beginning to end imbued with a warmth and a depth of character, wonderfully performed with exceptional sound design. A triumphant new addition to the Short Trips range, April cannot come quickly enough. 10/10.