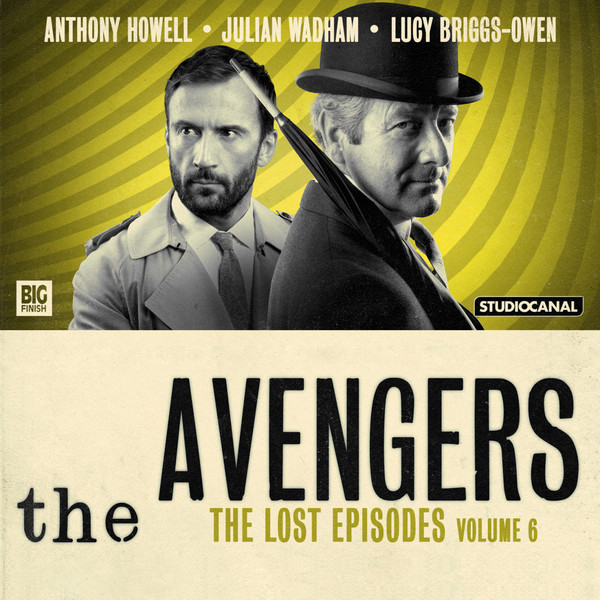 I am sure it has been said before, but I will say it again – some stories just fit in a particular era. And whereas the Emma Peel & Tara King episodes could not have been made at any other time than the late 1960's, the Doctor Keel episodes seem steeped in the ambiance of the early 1960's or the long 1950's that ended with The Beatles. All shot haircuts, smart suits, received pronunciation. Where you knew a villain was a villain because of his accent (working class, slimy or foreign) and where the heroes spoke properly and were thoroughly decent chaps. It really is a crying shame that only 2 and a bit episodes of the first series of The Avengers exists – but those that do showcase a completely different beast to what most people think of as The Avengers – studio bound, stagey, split in to "acts" almost like theatre for TV. And this level of authenticity for the era simply oozes from this latest Big Finish box set. From the dapper Steed (Julian Wadham) to the practical Keel (Anthony Howell) and all the supporting characters – they are what they are and they are most definitely of the era.
In this penultimate box set of Lost Episodes there are three stories, one is a rare thing, an adaptation of an existing episode "The Frighteners" and this is where the set begins:
6.1 The Frighteners by Berkeley Mather, adapted by Rae Leaver
Steed and Keel become involved in an intimidation ring – a gang of "Frighteners" led by the rather nasty Deacon (Michael Lumsden) – they have been employed to scare off upper class twit, confidence trickster and all round cad Jeremy De-Willoughby from rich young debutante Marilyn Weller (Eve Webster), you see her father Sir Thomas Weller (Hugh Ross) isn't too fond of Jeremy (with good reason) so has gone to some rather extreme methods to get rid of him….
A story very of its time, with the class structure being completely upheld (and satirised) – its ok if someone is a cad and a layabout, but working class origins – good lord no!!! And is a very faithful adaptation of the TV original – it feels claustrophobic, studio bound, violent and seedy – a very noir beginning to the set.
6.2 Death on the Slipway by Ian Potter, from a storyline by James Mitchell
If you were asked to come up with a cold war thriller set in a shipyard I don't think you would be far off what we have here. Intrigue, blackmail, stiff upper lips, dodgy "foreign types" and Steed having his suit ruined by oil. Again feeling just like early 1960's TV – Steed investigates the murder of one of his colleagues under cover at a shipyard that is developing a special Submarine – but one of the staff there is being blackmailed into helping an enemy agent.
Very "of its time" very "Cold War", you can tell who the villain is because he has an eastern european accent. This aside the hold he has over his victim for blackmail is rather tragic and he manipulates a man who is genuinely decent but has made an awful mistake. Very "Keel Lite" leaving Julian Wadham as Steed to carry the episode which he does with swagger, vigour and charm – he simply IS Steed – oh and Steed's mysterious boss One-Ten makes an appearance played by the fabulous Dan Starkey of "hello girl" fame, love his and Steed's interplay. Very good indeed.
6.3 Tunnel of Fear by John Dorney, from a storyline by Terrence Feeley
The Avengers was always off the wall, and for an early epode this is pretty left field. A Ghost Train at a Southend seaside is the venue for the latest attempt to smuggle information over the Iron Curtain – and while Dr Keel teams up with ex con Harry Black (Pete Collis) Steed makes himself at home as boss of the belly dancing attraction, and seems very taken with the dancers and the role he has taken on. This is very "Avengers-ish" if that is a word. Espionage and villains hiding in the world of vaudeville and surrealism – its not the full Peel or King, but it certainly has one foot in the wry and odd with fortune tellers, dancers, fairground rides and hypnotism all playing their parts.
So another triumph of a set, acted in the style of the era, produced and directed in the style & with a soundtrack that fits right in with the era – I am so glad that these episodes are being recreated, but a double edged sword is that there is just one more set to go and the whole run has been recreated. For now though I will savour the fine vintage that is Volume 6 and in honour of Steed's boss One-Ten I award it Nine-Ten.