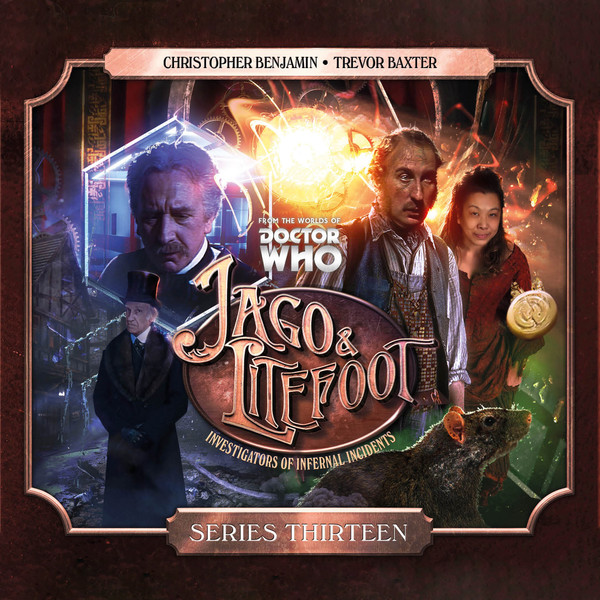 Can it really be 40 years? I mean really and truly? Well yes as a matter of fact it appears it can. Just over 40 years ago the Fourth Doctor and Leela arrived in Victorian London for one of their greatest adventures, met up with a Giant Rat, a Homicidal Homunculus and a time displaced terror from the future and also made some lifetime friend in Professor George Litefoot & Mr Henry Gordon Jago – who would have thought that those six episode of TV gold would spawn 13 series plus many specials of audio gold? Yes indeed this is the bi-annual bean-feast of bluff & bravado, the six monthly slice of silliness & spectacle – this is Jago & Litefoot Series 13.
I must admit I was a little bit worried at the ending of series 12 – there was no traditional tag scene or cliffhanger leading us on to the next box set, nothing – I thought it might be twelve and out for our investigators of all things infernal. How wrong I was, and really how could series 13 be trailered anyhow, it is a very different series, still full of the usual theatricality and charm this entry into the J & L canon harks back to their earliest encounter whilst being completely different to anything that has appeared before. Now being Whovians you all probably know The Talons of Weng Chiang back to front (and if not – why not???) but I suggest that you give it another airing before listening to this set as one name hangs heavy over the proceedings, and that name is Magnus Greel…..
That got your interest didn't it? and so it should if not for The Doctor & Leela and Magnus Greel Jago & Litefoot would probably not have encountered each other at all. Imagine that.
The set comprises of four interlinked stories:
13.1: The Stuff of Nightmares by Paul Morris
It all begins with very real and very vivid dreams Jago, Litefoot & Ellie are all suffering. Litefoot consults his old Psychiatrist friend Dr Hilary Standish (Carolyn Pickles) for assistance whilst Jago employs one Harry Hypno (Tony Turner) to try to get to the bottom of the waking nightmare worlds they seem to fins themselves in. And then there is Agent Cara (Abi Hayes) a Time Agent sent back to apprehend one Magnus Greel, she is utterly cold, ruthless & single minded and her trail leads her inevitably to Jago & Litefoot.
This opener drops the listener right into the thick of it – beginning with Litefoot's nightmare of being dead on a slab whilst Jago performs his autopsy – the listener is caught completely off guard, this feels a lot more dangerous and bleak than Jago & Litefoot has been before. Add to that the cold nature of Agent Cara and you have one of the most intriguing but also most visceral episodes that the series has produced – 13 series in and it is still fresh.
13.2: Chapel of Night by Jonathan Barnes
Carrying directly on from the previous episode our heroes find themselves back home in London – good old smog filled Victorian London, and it is. Unfortunately it is not their smog filled Victorian London, but something slightly different. We are in new territory for J & L, they are in a parallel universe. A universe in which they never met. Litefoot works it out pretty quickly – Ellie doesn't know them, Inspector Quick only has a professional relationship with Litefoot & does not know Jago at all, but infernal investigator they are whichever universe they are in and they soon become embroiled in a mystery regarding the "Chapel of the Night" and its owner Mrs Bartholomew (Teresa Banham) – why is she taking in suicidal men, what is she doing with them and why? It seem perhaps Jago & Litefoot are not the only visitors to this Universe.
Parallel universes are a sci-fi staple and usually involve a big difference like The Roman Empire not having fallen or Charles I winning the English Civil War, but this is far more subtle – the failure of a certain Time Lord to turn up changed the lives of the Jago & Litefoot of this universe as we shall see in the next story….
13.3: How The Other Half Lives by Matthew Sweet
Victorian times were awful if you think about it – disease, poverty, squalor, drugs, filth, cruel working conditions, debtors prisons. So what are two gentlemen from a parallel universe with no means of support to do in these hard times? Well they survive as best they can, renting a room in a squalid tenement block. But what of the Jago & Litefoot of this universe – well this is the episode where we meet them and see the sort of people they would be had the events of Talons not really impacted on them. Litefoot is more remote than the man we know, more dry and bookish and tinged with a sort of melancholy. Jago is, well, Jago – no longer a theatre owner (He lost his job at the Palace) but a married man, married to Xiu Xiu (Lucy Sheen) and scraping a living by scouring the sewers of London for lost items of value to sell – but Jago has a plan to put himself back on top, ever the showman Jago & wife have a plan to hunt, shoot, kill and stuff the giant rat that still roams the sewers – and a chance meeting with one Professor George Litefoot (from our universe) steps their plans up a gear. So did you all rewatch Talons? Matthew Sweet obviously has and has lovingly picked apart the story & reconstructed the outcome had there been no Doctor to save the day and to bring Jago & Litefoot together – but someone had to defeat Greel, and destroy Mr Sin didn't they? IF Jago & Litefoot didn't exist then someone had to step up to the plate and become them – make way for Aubrey & Betterman, Investigators of all things infernal.
13.4: Too Much Reality by Justin Richards
Aubrey (Jamie Newall) & Dr Betterman (David Warner) two characters who have appeared previously in Jago & Litefoot and in this Universe it was they (without the help of the Doctor) who defeated Greel and have since investigated infernal incidents and in this final story Jago & Jago & Litefoot & Litefoot & Aubrey & Betterman have a Demon to investigate, corpses that fade in and out of reality and a final encounter with a recent enemy. AND our Jago and Litefoot still have to try to get home. A lot to wrap up and a lot going on but wrapped up beautifully and completely logically and for me a "punch the air" moment – there was a cliffhanger to the next series…..
Another wonderful collection filled with nostalgia, adventure and a new way of looking at our leading men and the men they almost were. I also need to thank David Richardson who is bowing out as producer of the range after 13 blockbuster series, I have made no secret that Jago & Litefoot is my favourite Big Finish series and this is in no small part down to David's production skills. It was lovely to hear Trevor Baxter & Christopher Benjamin get to play slightly different versions of themselves and their skill in bringing these subtle differences to life was a joy to hear. What will the future hold? The new producer has huge shoes to fill – but has been gifted with a legacy of quality stories, class acting and exceptional sound design as a starting point, and I cannot wait for the new dawn that is series 14. A sideways trip that does not pause for breath and a Talon's tribute-tastic 10/10.