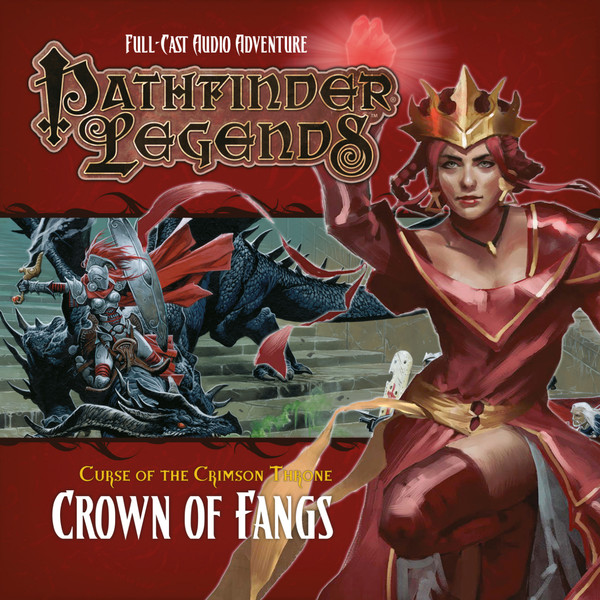 So here we are, six months and approximately twelve hours of drama later and the end is upon us. We have followed our heroes from the court of Korvosa through desert to haunted fortresses in their quest – and now, the final chapter beckons and we are back to where we all began its the final showdown between heroes Ezren (Trevor Littledale), Harsk (Ian Brooker), Merisiel (Kerry Skinner) and Valeros (Stewart Alexander) and the evil Queen Ileosa of Korvosa (Kate Brown). The Queen has grown in power, her body now harbours the soul of an undead Dragon making her virtually indestructible – luckily Valeros wields the magic sword which is the only thing capable of defeating her – surely it cant be that easy though?
A suitably pumped up epic finale to the season with the kitchen sink thrown in – Pathfinders couldn't do subtle if it tried and literally everything from the series is thrown in – there is treachery, battles, deception, magic, double dealing and several punch the air moments – and characters from the last six instalments all turn up to help make sure that good wins out. Which it does, its that sort of story, we know the good guys are going to win, but it is just so much fun going along for the ride.
This is very much what I expected the finale to be and I was not disappointed. Pathfinders isn't the range to seek out for deep meaningful life changing stories, if you want that check out Dorian Gray or Graceless – but what Pathfinders is is good old fashioned swashbuckling good versus evil blockbuster action – and as that it does not disappoint. The story is almost told in flashback as Valeros states in the pre credits that the Queen has won, we know she wont have done, but the journey to get to that point is exhilarating and fun and does not take the path that the listener might expect.
With thrills and spills aplenty this is a fitting ending to a very entertaining series, it wont change your life, it won't make anyones story of the year but it WILL entertain, and after all that is the purpose of listening. 8/10.