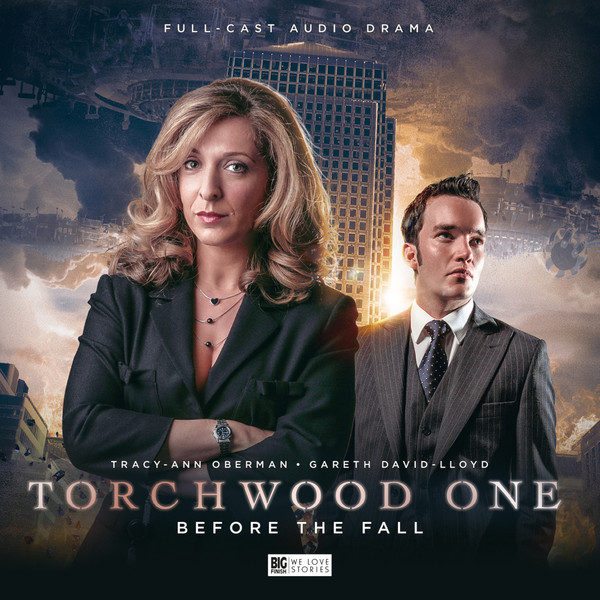 What really did go on at Torchwood One before the battle of Canary Wharf? Was Yvonne Hartman a good boss, did Ianto Jones make excellent coffee before his time in Cardiff and how did the staff put up with the peppy, corporate atmosphere of dress down Fridays buzz words, brainstorming & blue sky thinking? Because "Before the Fall" Torchwood was incredibly corporate - all fake smiles everybody "going for it", giving "110%" and the one I love to hate "thinking outside the box" - you would be forgiven for thinking that Torchwood One was an investment company or law firm or some-such rather than a top secret morally dubious organisation charged with protecting Queen and Country. And then Rachel Allan (Sophie Winkleman) arrives and we see the whole organisation from her perspective and with new eyes - because Torchwood One - Before The Fall really is the story of Rachel Allan. It is also a very very difficult set to review as events in the first story link in to the final two stories and I want every single listener to experience this set spoiler free, so lets talk about Rachel Allan.
Rachel Allan is not as I thought an Irish chef, she is the newest recruit to Torchwood One. Sophie Winkleman plays her as a slightly bemused, bothered and bewildered Yorkshire girl who cannot believe her luck in being recruited by Torchwood and getting to work with the legendary Yvonne Hartman (Tracy-Ann Oberman) - Rachel makes mistakes, wears cardigans and is not all polished and corporate like the rest of the set up and wonders why Yvonne recruited her at all - put it this way, if she was at Hogwarts she would probably be a Hufflepuff :-) But this is just the beginning of Rachel's story this set is played out over three stories:
New Girl by Joseph Lidster
This is where we meet Rachel and she gets to know the Torchwood team and is assigned to the weapons testing department under the supervision of 1970's throwback Thomas (Tim Bentinck) - but Rachel learns very quickly how to fit in in Torchwood and makes herself indispensable to the department and to the organisation - and then she discovers a conspiracy, discovers she has been retconned, completely freaks out and nearly causes an interplanetary incident. And then things get worse. Any more would be spoiling but this opening story sets the scene and tone of Torchwood One, think Ally McBeal with aliens - all office politics, relationships and all watched over by the unimaginably brilliant Tracy-Ann Oberman as Yvonne Hartman. Yvonne is fantastic, cold hearted, single minded, ruthless but she remembers her staffs birthdays, has everyone call each other by their first name and knows all about everything that they get up to. She is aided by Ianto Jones (Gareth David-Lloyd) as her PA, not quite yet the Ianto we know, a little bit too slick and not yet suffered the heartache of Lisa's fate, still a work in progress. So all happy, all jolly, all staff nights out and salsa classes and expenses. But not for long.
Through The Ruins by Jenny T Colgan
Its all change at Torchwood One and the team are sent on a team bonding day. Can you think of anything worse??? Well you have never been on one like this - all the usual things introducing yourselves and telling a "wacky fact" and then games which involve building things then a war game. With real weapons. Ianto Jones is not having a good day at all. Meanwhile Yvonne Hartman has problems of her own adjusting to her new situation. As I said earlier very difficult to talk about without the obligatory "spoilers" but the excruciating nature of team building days is captured perfectly and what can I say about Tracy-Ann Oberman, she plays Yvonne under pressure perfectly, unflappable, cool, clam, collected, knowing who her friends are and always staying one step ahead.
Uprising by Matt Fitton
As I said earlier this really is the story of Rachel Allan (not of Bake fame, sorry couldn't resist it one last time) and in this story Sophie Winkleman shows us the depth of character that she has given Rachel - in one particular scene where she bares her soul to Ianto gave me chills. As Rachel says she IS Torchwood and this story ends with her always having a place at Torchwood One - but I get ahead of myself - the atmosphere at Canary Wharf has changed somewhat from the "Ally McBeal" vibe I got in episode one, the corporate veneer has slipped and Torchwood has moved on to an alert setting, an invasion is imminent - our alien guests are not happy about their hotel arrangements, no mini bar, charges for extra toast, no tea making facilities this will not do, and Yvonne Hartman agrees, she even supplies a kettle :-) A high stakes end to the set with Torchwood coming together to do what they do best. Win.
An intriguing story that begins in a certain way and does not go anywhere near the path you expect it to tread, the major players are superb, but also the supporting characters of Dean (Gerard McCarthy), Soren (Robert Daws), Guleraana (Nisha Nayar) & Kieran (Damian Lynch) are so well written and played that they set like real people, I can just imagine them all having lives outside the story and to me that is the mark of excellent characterisation and a cast who really care about the material they are working with.
Torchwood One - Before the Fall was the story of Rachel Allan, the tale is told and in true corporate fashion it ends with an inventory and a price, and I audit this corporate entity at 8/10 efficiency.
Written by Ed Watkinson
Synopsis
This title was released in January 2017. It will be exclusively available to buy from the BF website until March 31st 2017, and on general sale after this date.
London, 2005. Yvonne Hartman is the undisputed head of Torchwood One. Above the government, beyond the police, she has excellent people skills; enjoys regular tea with the Queen; and effortlessly defends the British Empire from alien threats.
Yvonne Hartman is excellent at her job, and inspires devotion in everyone who works with her - until, one day, she makes a terrible mistake. We all make mistakes. But only at Torchwood can a single mistake plunge your world into interstellar war.
Yvonne Hartman's facing the fight of her life. One she's going to win.
New Girl
by
Joseph Lidster
"They've been coming to us for years. And we've been kept in the dark. My name's Rachel Allan. And I'm Torchwood"
It's Rachel Allan's first day at Torchwood. Torchwood only takes the brightest and the best – and Rachel's wondering if Yvonne Hartman's made a terrible mistake in picking her.
Plunged into a world of alien invasions and office politics, Rachel's desperate to fit in. For one thing, she really wants this job. And, for another, she knows what happens at Torchwood if you fail.
Through The Ruins
by
Jenny T Colgan
"Ianto, please. It's all… it's all gone wrong. I don't know what to think any more."
Away Days at Torchwood aren't what you'd expect. Yes, there's the forced camaraderie, the team-building exercises, and the chance for long-held rivalries to boil over. But Torchwood Away Days also have the potential to get very lethal very quickly.
Yvonne Hartman's extremely worried by this year's Away Day. But she's got other things on her mind – something's very wrong with Torchwood.
"Torchwood. It's taken the best part of a month, but I've finally got things running how they should be. How they should have been all along. "
Torchwood has experienced some radical changes, but things are finally settling down. Everyone has pulled together and is trying to put the past behind them. Well, except for Yvonne Hartman – she's out to win the future.
There's one problem. Someone seems to have started an interstellar war. Someone who knows Torchwood from the inside out.
Written By:
Joseph Lidster, Jenny T Colgan, Matt Fitton
Directed By:
Barnaby Edwards
Cast
Tracy-Ann Oberman
(Yvonne Hartman),
Gareth David-Lloyd
(Ianto Jones),
Gerard McCarthy
(Dean),
Sophie Winkleman
(Rachel Allan),
Robert Daws
(Soren),
Tim Bentinck
(Thomas),
Nisha Nayar
(Guleraana),
Lorelei King
(Pippa),
Damian Lynch
(Kieran),
Simon Hickson
(Ziggy),
Rachid Sabitri
(Mehdi),
Helen Goldwyn
(Receptionist),
Philip Childs
(Dave).
Other Humans, Aliens and Torchwood Agents played by members of the cast.
Script edited by
Scott Handcock
Executive Producers
Jason Haigh-Ellery
and
Nicholas Briggs