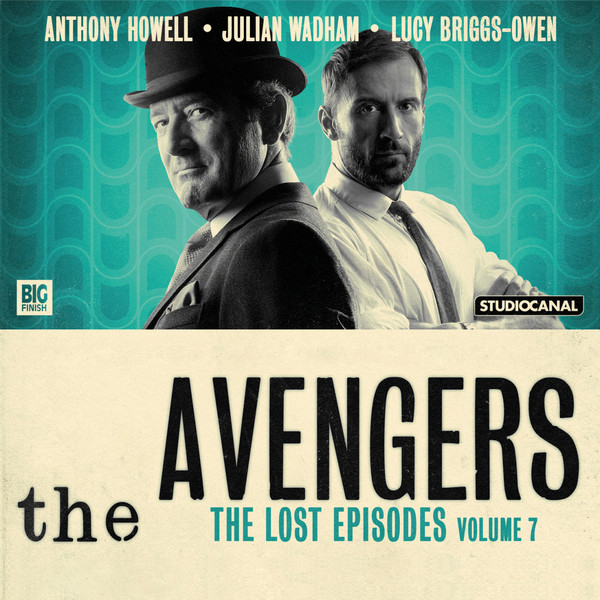 And so it ends. This is the very last box set of "Lost Episodes" as every single one of the missing episodes of Season One of The Avengers have been lovingly recreated by Big Finish, and bring the run an episode was actually found and returned!
But what a venture, recreating an entire season with hardly any reference material, making TV scripts work on audio, and most importantly of all recasting John Steed and getting it completely right. I am talking bullseye, on target and owning the role level of right – Julian Wadham take a bow because you have done the almost impossible you have made the role of Steed your very own, you didn't take the easy path of "doing a Macnee" and hoping for the best, you took the character and you made it work for you – and now when I listen to these sets I see Steed with your face.
But The Avengers wouldn't be The Avengers without a sidekick for Steed, or as with the early episodes Steed was a sidekick for Dr David Keel, played on TV by Ian Hendry and brought to life on audio by Anthony Howell – Keel the medical man who's life is thrown into despair when his wife is murdered in episode one assists Steed to "Avenge" against the criminal underworld, and this dual top billing saw episodes which both men would take the lead, indeed Steed didn't appear in a few at all which is inconceivable to those of us who came to The Avengers through the Mrs Peel era – but Hendry was the star of the show in Year One.
And so we come to the episodes, three in this final set, one Steed only, one Keel only and a final pairing up for a final hurrah:
Dragonsfield, written by Ian Potter, from a script by Terence Feely
Steed is sent to an experimental facility developing space suits to supply the American space mission. A murder has taken place and espionage is suspected – but who is the spy and why would they want to sell out to the Russians? A lovely start to the final set, Wadham is firing on all cylinders as Steed all suave, urbane charm on the one hand and hard edged agent on the other as he tries to untangle a web of office politics and office romances to get to the bottom of the mystery. A Steed only (or Keel lite if you like) episode that shows its roots in a television script but is effortlessly transferred to a very visual audio.
The Far Distant Dead, written by Tom Mallaburn from a script by John Lucarotti
Flipping the emphasis to Dr Keel in this second story (the "Steed Lite" if you like) Anthony Howell gives an earnest performance as Dr Keel, a genuinely good man and humanitarian who just wants to help heal the world. On holiday in Mexico Keel teams up with Dr Alvarez (Karina Fernandez) to provide medical aid to the victims of a cyclone – but he finds another disaster because food aid given to the victims is not all it seems and is killing those who cook with it. Keel uncovers a conspiracy spanning the Atlantic and discovers just how much suffering the greed of one man can cause. Different in tone to the first episode – Keel is a man on a mission, he sees injustice and fights it, he also cares, sometimes too much. Keel has a real depth of character and Howell really brings out his striving to do the right thing and help everyone as his way of "Avenging" his wife murder. Really cracking stuff.
The Deadly Air, written by John Dorney from a script by Lester Powell
And here it is, the very last "Lost" episode – Keel and Steed together for the last time investigating the sabotage of an experimental vaccine facility. Its a tense final episode rich with all the trapping that made the early episodes of The Avengers so memorable – Steed's charm, Keel's steadfastness and a serious threat, a threat so serious that Steed makes a grand farewell speech when he believes he has been infected by a killer manufactured infection. Being the last episode this is alluded to in the final scene, which is reminiscent of the Steed/Peel "tag" scenes of the later episodes – its an acknowledgement of all good things coming to an end but a reaffirmation that The Avengers are "needed".
And thats it. Big Finish have done a wonderful job of recreating these genuinely lost classics and breathing life into the long lost and sometimes overlooked Year One of The Avengers. Thanks to the hard work put in by all involved Avenger fans have a complete run of the whole series created with authenticity, enthusiasm & dare I say it with love.
A lovely set to end the series Mr Steed & Doctor Keel take a bow, your work is done 9/10.