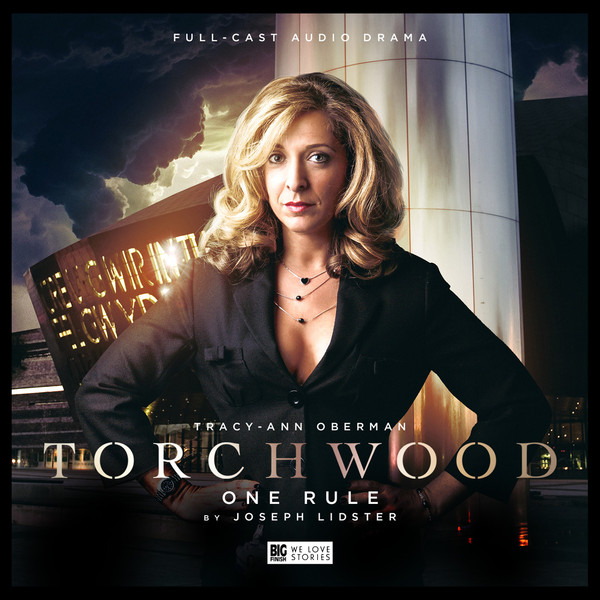 Being both Welsh and a Councillor I really shouldn't like this release. Really shouldn't like it at all – because this story not only relentlessly lampoons certain traits of my nations capital, but also parodies Councillors as self serving parochial and small minded. If a story can succeed despite this then we must be on to a good thing, and with One Rule writer Joseph Lidster has crafted a great thriller that is combined with a fish out of water comedy and the return of the eternally beautiful Tracy-Ann Oberman as Yvonne Hartman (from the Doctor Who story Army of Ghosts/Doomsday).
Lets rewind a bit shall we – this story is set in 2005, a year or so before Torchwood launched on TV, so this is the pre Gwen Cooper era (even though she is very cleverly referenced at a bar room brawl) and Yvonne Hartman is on a visit to Torchwood 3 in Cardiff to retrieve a piece of alien tech but this sophisticated London Lady is about to end up in a completely alien situation – she is going to experience the horrors of a night out in Cardiff!
The Mayor of Cardiff is dead, killed in the Auton invasion seen in the TV episode Rose – and now the rivals for the position of new Mayor are being bumped off one by one, killed horribly by a seven foot tall blue alien, killed by having their heads bitten off – and when her hotel is burned to the ground Yvonne Hartman teams up with Councillor Barry Jackson (Gareth Armstrong) on a night out in Cardiff never to be forgotten. Yvonne has to try to keep Barry and Councillor Helen Evans (Rebecca Lacey) alive until the trains start again (last train to London leaves Cardiff at 21:30) so that she can get them to Torchwood One in London for safe keeping.
As I said earlier – I should be offended by this story – but it is hilarious, a parody of some of the less sophisticated, more provincial aspects of certain parts of Cardiff – from Yvonne having to down a pint of Diamond White, to her being mistaken for a drag queen, to being vomited on in the ladies of a seedy nightclub – this is new territory for Yvonne – (she has tea with the Queen twice weekly you know) but takes it all in the line of duty for Queen and Country.
Underneath it all, this is a story about identity – all the main protagonists – Yvonne, Helen, Barry are not the people they pretend to be – and it takes a night out from hell to strip away the facade they have created and for the real person to come out – Yvonne's revelation, and her transformation from cool, calm, calculating right-wing people person to "something from Steven King" is shocking to behold. The public's capacity for self delusion is again alluded to – an alien invasion a few weeks ago but all the citizens of Cardiff seem interested in is who is going to win Strictly (Obviously its going to be Anton and Katie) or maybe people just want to feel comfortable and not threatened so they retreat away from the horrors of the world into a safe place.
The performances are all excellent – Barry and Helen as parodies of parodies of local Councillors, the denizens of Cardiff's more seedy parts all beautifully caricatured – but Tracy-Ann Oberman steals the show with her cut glass accent and withering barely disguised contempt for the situation she finds herself in – Tracy-Ann just has one of thosevoices like Nigella or Alex Kingston that make men of a certain age go weak at the knees – and I hope we hear more of her very soon as Yvonne's story is nowhere near being told – any chance someone in Big Finish could commission a story about her rise to power?
Overall a rough night in a rough part of a beautiful City but a diamond performance from all involved and a polished script 9/10.