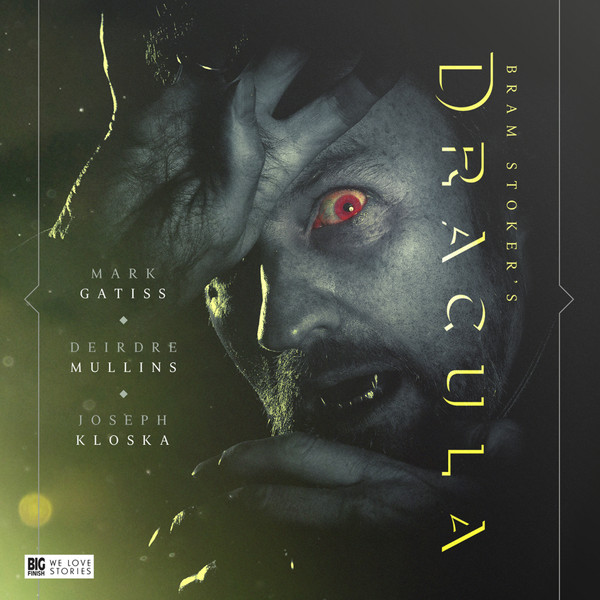 For a 119 year old story Dracula is still possibly still the most influential Horror Story ever written. You may throw Frankenstein at me, or Jekyll & Hyde or The Turn of the Screw – but I say NO. THE most influential horror story was a tale of a trip to Transylvania by Bram Stoker. Think of it this way, no Dracula then no Hammer, no Buffy, no Twilight, no True Blood, no State of Decay. The character of Count Dracula is a villain for the ages imbued in our psyche as a byword for evil, you don't need to have read or seen a Dracula film to know who or what Dracula is – so, it was no surprise when Big Finish announced that they were going to dramatise the greatest Horror Story ever told. Not only that but Mark Gatiss was going to play the Count.
There have been may interpretations of the story, from Cushing & Lee in the Hammer Classic to (for me) the definitive Gary Oldman portrayal from the 1990's – but what sort of angle were Big Finish going to go for? Well, they have gone back to the source material and produced a very faithful adaptation of the original Bram Stoker text told over three parts each being approximately an hour long.
Part One deals with Jonathan Harker (Joseph Kloska) visiting Count Dracula (Mark Gatiss) at his home in Transylvania to conduct the legalities on a property that the Count has purchased in London – told from the point of view of Harker writing entries in his diary (exactly as the novel) we follow Jonathan's ordeal at castle Dracula and the dawning realisation that he is a prisoner and may never get out alive.
Part Two has the Count in England terrorising Lucy Westenra (Rosanna Miles) and the beginning of the fight back led by Lucy's fiancee Arthur Holmwood (Alex Jordan) and his friends Dr John Seward (Rupert Young) & Quincy P Morris (David Menkin) – part two also sees the introduction of the legendary Abraham Van Helsing (Nigel Betts)
Part Three deals with our heroes now accompanied by Jonathan Harker & his wife Mina (Deirdre Mullins) fighting back against Dracula's evil plan and hounding him back to Transylvania for an epic showdown.
It is a very well produced adaptation and really does tick all the boxes – Big Finish really have gone back to basics and told the story of the book rather than the legend that the book has become – I just felt that the earlier parts of the production lacked pace, urgency and peril, all the constituent parts were there but the spark of adventure did not seem to have been fully ignited – however after a slow and ponderous first two parts things step up a gear in the final chapter – the method of story telling is more experimental and the sedate pace of the build up gives way to a breakneck race against time.
Let me talk about the cast – yes there is the much lauded Mark Gatiss who gives a suitably "Arch" performance as the Count – he plays it almost exactly as you expect he will, nothing wrong with the at all – but I will save my praise for two actors in particular – Deirdre Mullins as Mina Harker and Ian Hallard as Renfield. Whilst the quality of acting is as excellent as any of Big Finish releases Mullins & Hallard really do raise the bar – Mina could be a textbook damsel in distress but not here she is strong, determined and unwavering – a woman ahead of her time and every bit as strong as her male comrades. Which brings me to Renfield – how easy would it be to play Renfield as a gibbering raving maniac? It would suit the part and would be perfectly in keeping with Stoker's character – but Ian Hallard under the direction of Scott Handcock gives an extraordinary performance and all the more frightening for seeming sane 90% of the time – a very clever take on the character.
Before I sum up I will hand you over to Hayley for her thoughts:
I have read Dracula many times and welcome any audio/visual with eager open arms, as I welcome any Big Finish release in the same vein (no pun intended). Dracula, much like Shakespeare, is always open to interpretation. He's been a subject for comic treatment, Blaxploitation, and various Hammer escapades, so it's always good when he comes home to Stoker.
Mark Gatiss seems the obvious and right choice for the Prince of Darkness. A horror fan himself, it seems natural that he'd be cast in the role at some point in his career and he certainly seems to relish this opportunity. Often subtle, always menacing, and finally human he gives a performance as good as any I've seen or heard. It has an impressive cast who breathe life into the often recounted tale; Deirdre Mullins in particular stands out as a gutsy Mina Harker – a woman ahead of her time.
To echo Ed, it's the final third where it really comes alive. It's a faithful production but lacks something early on. Perhaps the tension was lacking for me due to my familiarity with book, but it I felt it lacked the impact of Big Finish's excellent Frankenstein. The denouement was well done though, Mina as brave as any male hero and Gatiss giving a touching human quality to the Vampire.
Thrilled again that Big Finish are tackling the classics. It's made me want to revisit the book one more time, which I certainly will do.
A traditional retelling of a classic that somehow in its early stages seems a little too safe and meandering, superb acting and production values and a lengthy running time give the story a chance to breathe and gather pace to a gripping finale. Clever story telling techniques (especially in part three) keep the story fresh – one to it down to on a quiet rainy Sunday afternoon with a glass of something red and let yourself be whisked away to Transylvania again. 7/10.